If you are building with a volume builder, or have done so in the past you will know what I mean!
Today I got to do the "Color Selection". I thought I pretty much knew what I wanted - ha. Little did I know that everything I thought I wanted was the dreaded UPGRADE. The words I didn't want to hear. I seem to have a champagne taste on a water budget (don't we all *eyes roll*).
Also, the color consultant/designer,whilst she was really nice, is just a glorified sales lady. I could almost see the $$$ building in her eyes. (It reminded me of when you buy a new car, and you have to sit at the desk where they go through the paint protection and so on).
Anywoo - what did I pick. Well I'm so brain dead I can't remember it all!
Externals - we had preselected these as they needed to be approved in our DA for council.
Bricks: Boral Blackheath
Roof: Tiles Straitia Charcoal gray color through
Mortar: Off white, raked joints
Downpipes, Gutters, Front door: Ironstone
Fasica, Garage door, Windows: Surfmist
This image is from the Boral Bricks Boral vision software. Our facade is different but it gives you an idea of the look we are going for.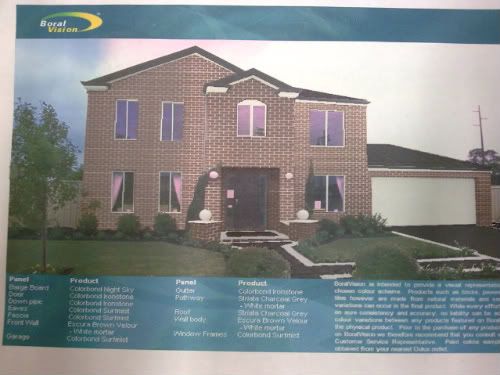 `